Brachypelma Smithi
Mexican Red Knee
Care sheet created by Robc - All pictures are of my 4.5" female B. Smithi "Jazz"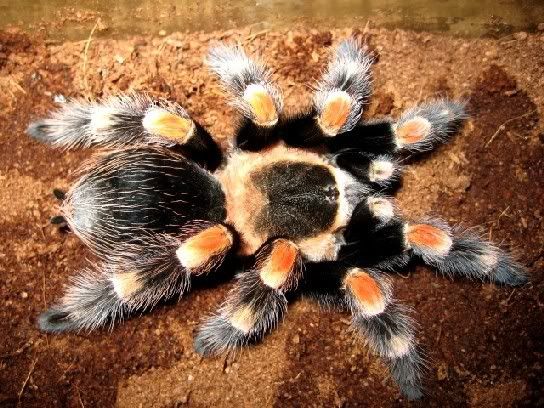 Scientific Name:

Brachypelma Smithi



Common Name:

Mexican Red Knee
Range/Location:
Relatively dry highlands of the pacific states of Mexico
Appearance:
B. Smithi's are a brightly colored species with patella (knee) segments are bright orange and there is a reddish band across the front edge of the tibia as well. The abdomen is velvety black with scattered pale hairs, while the carapace is a shiny black with a broad coppery rim. Males are nearly identicle to the females, though occasionally more leggy.
Size Range:
A B. Smithi typically ranges in size from 5" to 6".
Growth Rate:
The B. Smithi is a very slow grower, taking 5 years (male) to 7 years (female) to reach maturity. The growth rate of the B. Smithi depends on it's habitat, diet, and temperature. An individual kept at lower temperatures will tend to grow slower than an individual kept at slightly higher temperatures.
Life Span:
Females typically have a life span of 20-25 years, with the occasional, rare, 30 year old specimen. Males usually live approximately 2 years after reaching maturity - depending on temperature and feeding practices. The typical life span of a male B. Smithi is 6-8 years.
Diet:
B. Smithi's captive diet should consist of large crickets, adult B. Dubia cockroaches, and the occasional pinkie mouse before breeding in an effort to keep the female from killing the male. I do not recommend feeding them vertebrates often as this can lead to a high concentration of calcium causing potential molting problems.  When feeding vertebrates, I suggest offering pre-killed specimens.
Temperament/Defense:
B. Smithi's tend to be very docile though some will kick urticating hairs if disturbed. Their urticating hairs are more mild than some other species but irritation can still occur. The urticating hairs can cause a burning/itching sensation that can last for several minutes, to hours. Some individuals can be allergic to these hairs. I have handled my B. Smithi frequently and she has rarely kicked hairs and has never threatened or tried to bite. If you are new to this hobby or new to this species, I recommend B. Smithi as a great starter tarantula. Though a bite from a B. Smithi is rare, caution should still be used as little is known about their venom. Bite reports suggest it is relatively mild - though allergic reaction can still occur in those that are susceptible. Below is a video of me handling my female B. Smithi.
Wild Habitat:
In the wild they are found mainly in desert scrub lands in deep burrows.
Keeping in captivity:
I recommend having at least a 5 gallon to 20 gallon tank. This is a species that likes it dry and will tend to climb the enclosure walls if the substrate is too wet. Keep the substrate dry and mist the sides of the enclosure glass once a week and over-fill the water bowl to add humidity.
You will need a water bowl large enough for the tarantula to get it's head in.
See the video below for a look at my B. Smithi enclosure.
Temperature:
I recommend a temperature of 75-82 degrees when keeping them in captivity. I strongly suggest not getting heat from any type of heat pad - this can cause severe burns and death in a tarantula.
Humidity:
In captivity, I suggest keeping the B. Smithi at 60-65% humidity. This can be achieved by misting the sides of the enclosure glass once a week and over-filling the water bowl.
Tibial Spurs:
The mature males of this species have very pronounced tibial spurs.
Breeding:
When attempting to breed the B. Smithi, there are certain premating conditions that must be established. First, the female will need to be cooled down for a period of a few months before mating (cooling them artificially in late spring and trying to breed in summer is advised). Next, be sure the mature male has recently made a sperm web and that the female is no more than 3 months into her molt cycle or she will molt out the sperm deposit before producing an egg sac.
Introduce the mature male into the female's enclosure. He will begin the mating process by tapping the webbing she has laid near her territory. This signals her that he's there and interested in mating. So be sure to keep any and all webbing around the female's territory or den intact - this is how the male senses that a female is nearby.
Once mating has started, do not disturb the mating tarantulas though you may want to be nearby with a ruler or a small piece of plexiglass if the female should turn aggressive.
Once the female is gravid (pregnant) keep the noise levels and light to a minimum and do not disturb her or she could become stressed and may eat the sac. The B. Smithi usually has an egg sac with anywhere from 500-1000 spiderlings. When an egg sac is produced, be sure to moisten a portion of the enclosure to elevate humidity levels.
Communal:
This species can not be kept communally, aggression will occur.